Mixing units are used to mix drilling fluid during horizontal or vertical drilling projects. Our units are built to mix bentonite, grout and other drilling fluids. This range of mixing units varies in mixing capacity of 125 up to 4000 liters per minute. We have built the first mixing unit 20 years ago and we have continued to improve these units ever since. We learn from our customers and incorporate their user experience in our design. We have optimized our range of mixing units to the highest standards available.
Check our standard units below. Contact us for more information.
M125B
125 ltr/min | 2200 x 750 x 1650 mm (LxWxH) | 260 kg
M250D
250 ltr/min | 3900 x 1000 x 2300 mm (LxWxH) | 900 kg
M405D
400 ltr/min | 2300 x 2460 x 2350 mm (LxWxH) | 1540 kg
M705D
700 ltr/min | 2300 x 2460 x 2350 mm (LxWxH) | 1740 kg
M1000E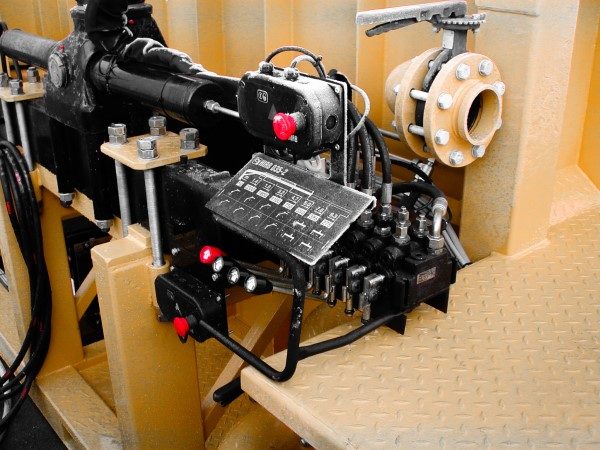 1000 ltr/min | 6060 x 2450 x 1750 mm (LxWxH) | 5500 kg
M1010E
1000 ltr/min | 3900 x 1000 x 2300 mm (LxWxH) | 2500 kg
M1500E
1500 ltr/min | 6000 x 2450 x 2400 mm (LxWxH) | 6500 kg
M2502E
2500 ltr/min | 7200 x 2450 x 2600 mm (LxWxH) | 9500 kg
M4000E
4000 ltr/min | 12000 x 2450 x 2600 mm (LxWxH) | 9000 kg
We have a wide range of mixing units. All units are easy to operate and easily accessible for maintenance. Our small footprint units are logistically highly efficient. They are built with a hopper, a venturi and nozzle system. This keeps drilling fluid in motion, which improves the shearing and its quality. We use a high quality of centrifugal pumps, which guarantees the correct combination of pressure and flow. The hard iron steel frame is wear resistant and paintable in any choice of RAL-color. They are electrically driven or run with a stage V diesel engine. The curved tank bottom is built for optimal flow and prevents settling. A dual tank is optional, just like other requirements or wishes of customers and operators. CE certification of conformity and manual are included.
We only like tough questions